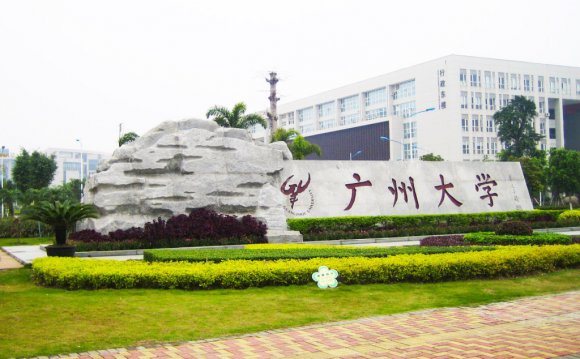 Guangzhou University (GU; simplified Chinese: 广州大学; traditional Chinese: 廣州大學; pinyin: Guǎngzhōu Dàxué) is a state university in Guangzhou, capital of Guangdong province, China.
History

[edit]

The university is made up of two campuses. The major campus is located in Guangzhou Higher Education Mega Center (geographically called XiaoGuWei Island), covering a total area of 131.7 hectares, with a building space of 596, 000 square meters. The other campus is located in downtown (GuiHuaGang) of Guangzhou, covering 20 hectares.

The university is fully committed to consolidating and expanding its undergraduate program, graduate programs and international students program. The university comprises 26 schools (department). Currently, the university is authorized to run 3 PhD programs with 20 grade-2 subjects, 27 graduate programs with 150 grade-2 subjects. In addition, the university offers 5 professional graduate programs in 27 fields, including pedagogy, engineering, physical education, art and international Chinese language teaching. It also offers 69 undergraduate programs with coverage of 8 disciplinary fields, including philosophy, history, literature, law, pedagogy, art, science, engineering, management and economics.

The university has a teaching and research staff of 1439, including two academician of the Chinese Academy of Sciences and one academician of Chinese Academy of Engineering, 290 full-time professors and 604 full-time associate professors. The number of the full-time graduates and undergraduates is over 23, 000.

The university is actively undertaking the national and provincial research programs, such as national "973"and "863" projects. It has established more than 30 research institutes or centers specializing in a wide range of subjects, including Interdisciplinary Research Center, Earthquake Engineering Research Test Center,Human Right Research Center, Research Institute for Computer Science & Software etc. International exchange and cooperation have always been a priority work of the university. Up to 2011, the university has established the partnership with more than 100 overseas institutions. The university is available for international students to study Chinese and apply for degree study. It also enrolls students from Hong Kong, Macao and Taiwan as well.

In the new age, the university is engaged in making a contribution to the development of Guangzhou, Guangdong Province as well as that of China. The goal of the university is to mold itself as a comprehensive university with a unique characteristic and ranks in a leading position among the universities of similar type.

Located in the vicinity of the Guangzhou Sculpture Park(廣州雕塑公園) and Luhu Park(麓湖公園), Guangzhou University has easy transport access. The University has a floor area of 486, 000 square meters, with an additional area of 436, 000 square meters in its five campuses situated in Guangyuan, Guihuagang, Luhu, Qiyi Lu and Longdong. The 2.1 billion USdollar new campus, as large as 1, 975 mu (1.32 km²), is available to all students in Guangzhou University.
Source: en.wikipedia.org
INTERESTING VIDEO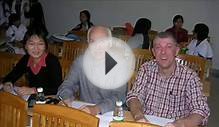 Guangzhou (Sth China normal) University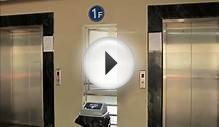 CEC - South China Normal University (SCNU), Guangzhou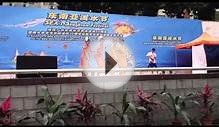 South China Normal University - Guangzhou
Share this Post