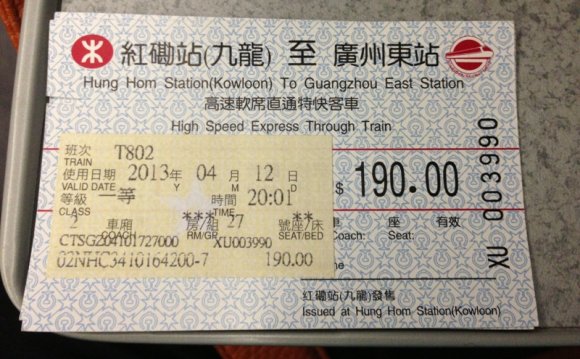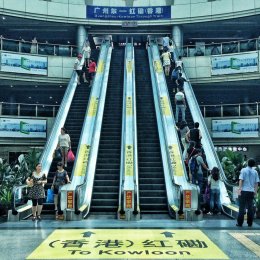 Preparing your trip: what you should know
Trains get full fast during week-ends and during the Canton Fair (three phases twice a year), buy your ticket in advance (you cannot buy them more than 18 days in advance). Passport or ID is not required to buy tickets at the time of writing for KCR trains. Booking via the MTR Intercity Through Train is available on your smartphone (I never tested it).
There are two types of ticket counters at Guangzhou East station : one where you can buy tickets in RMB only (人民币) and another one where you can buy tickets in Hong Kong Dollars only (港币). In Hong Kong Hung Hom, tickets are sold in Hong Kong Dollars only. In both station, you can buy tickets up to 18 days in advance.
There are three KTT (with premium class and 'first class' seats which are actually second class seats) and nine common trains (with a unique 'first class'). The three KTT have more comfortable and wider seats. The advantage of riding on the KTT's premium class is that the train doors open near the only exit. This gives passengers a fair advance in getting quickly to the immigration counter (the Chinese immigration makes a difference between Chinese nationals and Foreigners, while the Hong Kong immigration has a line for Hong-Kong residents and for visitors which include both Chinese national and Foreigners. Queues are therefore longer on the Hong Kong side).
Frequent users of the KCR start queuing early to exit the train (as early as Shatin 沙田 on the Hong Kong side and after Machong 马桶 on the Guangzhou side). If you are in a hurry when getting in Hong Kong (if you want to catch a flight at HKIA) and are not in the premium class, get as near as cars 4 and 5 to exit near the escalators).
Most trains (except the T808 and T814 from Hong Kong and the T817 and T811 from Guangzhou) stop in Dongguang Changping Stations (常平站).
There is one train daily (T804 departing at 10:52 AM from Hong Kong) that goes further into Guangdong province with stops in the nearby cities of Foshan (佛山) and Zhaoqing (肇庆). From Zhaoqing, the T806/3 departs at 3:30 PM.
There are direct Beijing West (23.5 hours) and Shanghai-bound (18.5 hours) trains departing from Hong-Kong. Trains are available from Hong-Kong only and operate on alternate days.
Guangzhou East Train Station : chaos near the platform
Hong Kong-bound trains depart from Guangzhou East Station in Tianhe urban district (天河区). Badly organised and poorly managed, this train station is the epitome of Guangzhou.
For no discernable reason, in May 2014, most of the entrances and exits were sealed off in a clumsy and illogical attempt to control passengers' flow. The second floor entrance / exit no longer exists and the only entrance is the 'gate 1' (1号门口) on street level where passengers have to submit to an airport-like screening of their luggage. With employees dozing off and playing with their mobile phone behind their computers and farmers in uniforms who grab your pockets with a turned-off screening device, entering Guangzhou East Train Station has become a frustrating and lengthy process.
If you get there via the Guangzhou subway system. Use line 1 and 3. It will probably take more time to find your way into the train station than riding a taxi during rush hours. Good luck.
Hong Kong-bound train's waiting halls are on the third floor. Follow the "广九线" signs. On the second floor you'll find the ticket counter (I do recommend to buy your tickets in advance, specially for week-end trains who fill up very quickly. Expect to queue 10-20 minutes if nobody cuts in front of you). Take another escalator to the top. Gates open 45 minutes before your scheduled train departure.
Friendly tip : if you need to use the washrooms, be psychologically prepared to ask yourself : "how come that a long and brilliant civilisation like China that has invented paper-making, printing, gunpowder and compass has not yet been able to invent clean toilets and hygiene in an international building?"
Immigration : Passengers have to go through immigration (do not forget to fill your Departure Form. Blank forms should be available). After immigration, you will have to re-screen your luggage for the immigration people who sometimes stop you with a "hey" and ask you to open your bag. No English spoken (of course).You then arrive to a second waiting room where gates open 10 minutes before scheduled train departure time. Once in the train, you'll finally be able to enjoy cool air (because there is none in the train station).
Taxis from Guangzhou East : queue forms on street level outside the main exit. Expect to wait 15 minutes on average before getting into a taxi. Luggage : Guangzhou's taxis trunks are very small and if you are a group of two or three people or more with big suitcases, it may be a headache to fit everyone and everything in the car.
Source: travelcathay.com
INTERESTING VIDEO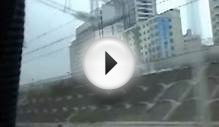 Guangzhou-Shenzhen-Hong Kong Express Rail Link CRH3 G6216 ...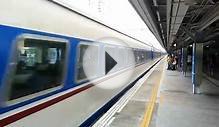 Southbound through train from Guangzhou heading towards ...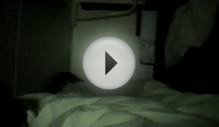 Hong Kong to Beijing Train
Share this Post