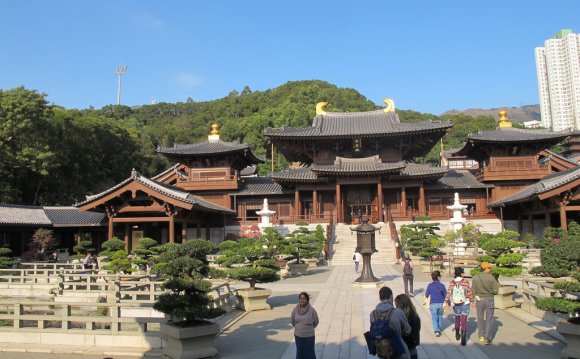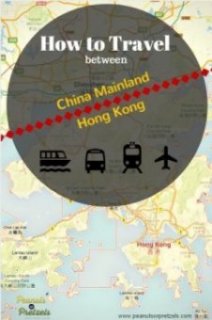 Many people are surprised to realize just how close the main city of Hong Kong is to the mainland border of China. In fact, you can go from Central Hong Kong to the border of the mainland in roughly a half hour. Adding to the convenience are the transportation options available for traveling from Hong Kong into mainland China including bus, boat, train, or plane.
Living in Guangzhou, We've Crossed the Hong Kong / Mainland Border Multiple Times
We are currently living in Guangzhou, China, where we teach English. It's amazing just how close Guangzhou is to Hong Kong. Our apartment in the Panyu district of Guangzhou is roughly 70 miles from Hong Kong…yet it feels worlds apart! It's pretty cool to be in China, yet have such easy access big "westernized" city such as Hong Kong!
Even though the British gave Hong Kong back to China, it still holds a unique identity and is managed as a "Special Administrative Region" or SAR; meaning that they have their own form of government (although some would argue that more and more China is trying to impose). Therefore, you do need passports and visas to travel across the boundary.
For more information about Chinese visas, read our post "How to Get a Visa for China."
Taking the Bus from Guangzhou to Hong Kong
When we departed Guangzhou for Hong Kong, we took the bus. Because we live in the Panyu district (on the southern side of downtown), we opted to take a direct bus from the Panyu Hotel. This is a popular departure point for people in the area. There are ticket offices who sell both bus and ferry tickets here to Hong Kong and to nearby Macau (also only a couple hours away!).
Guangzhou is huge. So you will need to check online to find out whichever bus terminal is most convenient to where you are, but we know there are a few of them around town.
We arrived bright and early to catch the first bus of the day at 6:30 am. But unfortunately, the ticket office didn't open until 7 am! So we needed to buy the ticket for the 6:30 am bus the day BEFORE departing (note to self for future reference!).
Because we were traveling over a busy time of year (the Chinese New Year) the first bus with availability was 8:30 am. Our tickets from Panyu to Hong Kong cost only 100 Yuan (roughly $16 USD).
Note: We learned that if you are traveling on a busy day such as a holiday, then you can buy your ticket a day in advance to be sure you get a seat on the scheduled departure that you prefer!
Crossing the Border into Hong Kong by Bus
As we got on the bus, they gave us a sticker to indicate our destination in Hong Kong — for when we crossed the border. Once on the bus, we made only 1 other quick stop to pick up a couple people, then we were off toward the border.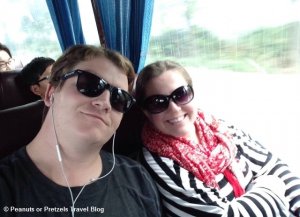 We were on an E + E bus. And their route took us to the Shenzen Bay port into Hong Kong. It only took us about an hour and a half to get to the border.
Once at the border, we had to disembark the bus (with our luggage) and go through immigration on foot. I'm not sure if it works the same if other buses take you to different border crossings, but that's how it worked at the Shenzen Bay Port of Entry.
Since we traveling at the busiest time of year, there were massive crowds here! I must say, they were pretty efficient…but I've never seen anything like it before. Once we exited China, we entered Hong Kong. Then when we exited the building, we had to find our bus.
It was a different bus on the Hong Kong side, but run by the same company. There were MANY buses to choose from, but we needed the one with our particular route. That's where the sticker came in handy.
One of the ladies saw my sticker on my shirt (written in Chinese…so I didn't know what it said!) and she pointed us to the right bus.
** Luckily, many of these workers do speak some English because we were on the Hong Kong side. That always makes a difference!
Overall, it took us 1 hour to cross the border into Hong Kong from China. Mostly because of the holiday crowds, I'm sure!
After we were back on the bus, it only took us about another half and hour to be dropped off right in the middle of the Mong Kok district of Hong Kong city.
Taking the Train from Hong Kong to Mainland China

For our return from Hong Kong to Guangzhou, China we decided to take the train. Buying our tickets from Hong Kong to China was super easy. We went to the main Hung Hom train station in the heart of Kowloon in Hong Kong. We were able to buy our tickets the same day, on the morning that we wanted to depart.
Then we went out to finish exploring the city and returned to the train station later in the day with our luggage.
Our tickets cost around 190 Hong Kong dollars (roughly USD) – so it was more expensive than the bus. They advise that you arrive 20-30 minutes before our train, but we were nervous about more Chinese New Year holiday crowds, so we arrived a good 60 minutes prior.
We learned that the extra time wasn't necessary, but luckily the train station has some shops and restaurants. So we relaxed and had a coffee while waiting for our boarding time.
When it was time to board (around 20 minutes prior to departure), we headed to the designated queue to go through a quick security screen. This isn't like at an airport — there was no line and we were done in just a couple minutes (although, this would be different at the height of holiday travel).
Then you are in the departures hall and they will start boarding your train almost immediately. Simply look at your ticket to find your assigned coach and seat number.
Once on board, sit back and relax. The trip to Guangzhou only takes 2 hours!
** Immigration: When you leave the Hong Kong station they will check your immigration paper work to exit the country. However, they do not check your entry paperwork for China. So be sure you have your Chinese visa and paperwork ahead of time. After arriving in Guangzhou you will head directly through Chinese Immigration! So that's not the time to be turned away and be forced back to Hong Kong!
Taking the Ferry From Hong Kong to Guangzhou, China
Since Guangzhou sits at the Pearl River delta and Hong Kong basically lies at the mouth, you can take a boat between the cities. Many companies provide ferry service. From what we have read, it only takes a couple hours to travel. However, we have not done this journey by boat so we cannot vouch for it.
** We have heard that there may actually be limitations on the size and amount of luggage that you can bring on the ferries. So if you are wanting to take a ferry between Hong Kong and Guangzhou, be sure to look into this in advance because we aren't sure it is the best way to travel with luggage.
Flying From Hong Kong to Mainland China
Since our home in Guangzhou is so close to the border of Hong Kong, it is silly for us to fly. It's so expensive, plus, you are advised to get to the airport 2 hours early…and in that time, you could already be in Guangzhou!!!




Source: www.peanutsorpretzels.com
INTERESTING VIDEO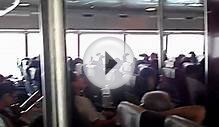 Ferry from Hong Kong to Macau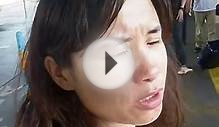 Boarding Fast Ferry from Hong Kong to Macau June 2012
Star Ferry Hong Kong from Wanchai to Tsim Sha Tsui
Share this Post