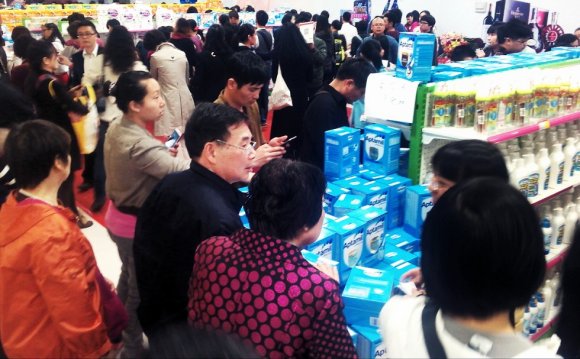 My winter trip back to the land of Mao — and no Facebook — began with a rather refreshing surprise. Upon stepping outside of Baiyun International Airport in Guangzhou, China, I was greeted by blue skies.
While contemplating whether the sight was the result of the government somehow pumping dye into the atmosphere, as it was rumored to have done during the Olympics and Asian Games, I was picked up by a driver (not an uncommon service employed by expatriate and local families) and made my way back home to the riveting high notes of Chinese Communist opera on the radio. I soon learned from my mom that the blue skies were due to constant rain from the past few days — a fact empirically supported by the grey that took over the next day.
After settling in, enjoying a much-missed $4 blowout at the salon and setting up a VPN to bypass the great firewall of China, my first order of business was to head to Tianhe District, the city center, for dim sum with my high school friends.
Guangzhou is the largest city in Guangdong Province, known internationally for its vibrant, food-centric culture as well as for being the birthplace of dim sum. Even though it isn't exactly rare in the Bay Area, as I subsisted mainly on SpoonRocket for the last three weeks of the semester, the table piled high with small bamboo baskets of delectable steamed delights was a more-than-welcome sight. A filling lunch of har gow (shrimp dumplings), siu mai (small pork dumplings wrapped in thin flour wrappers), barbecued pork buns, steamed spare ribs, congee, lotus leaf rice and chicken feet (more poetically known as "phoenix claws") rounded off to about $16 per person without additional taxes or tips. We promptly decided to walk off that meal with an afternoon of shopping.
On another occasion, we ate at Bingsheng, a very historical Cantonese restaurant with amazing barbecued pork, located within the concrete jungle of Zhujiang New Town, an extension of the Tianhe CBD, as well as various restaurants on the rooftop veranda of Taikoo Hui — a very upscale mall in Tianhe.
But the good eats were not all far from home. I visited the Luoxi Food Street in Panyu with family for a cheap yet delectable dinner. The grilled items were prominently flavored with cumin and other spices and were a welcome palette change from American barbecue.
Second only to its reputation as a foodie's haven, Guangzhou is a shopaholic's dream. The heart of Tianhe is a bustling hub of large malls that house familiar names, such as Zara and H&M, as well as Chinese favorites such as Ochirly. A bustling consumer culture packed the malls. We dedicated most of our time, however, to the extensive underground network of small, individually owned outlets that boasted an amazing selection of chic and trendy apparel and accessories — all on a Chinese budget. A personal favorite was the relatively new Tianhe Fashion Walk, the hip underground mall network under the Tianhe Sports Stadium that is characterized by a seemingly unending labyrinth of stores, delightful eateries and drink kiosks. The vibrant yet vintage mall is a popular destination for hip young shoppers, with its fluorescent stairs, jazzy neon signs, graffitilike murals and whimsical installations that can best be described as Wonderland meets Harajuku.
During the course of the afternoon we spent shopping, we also visited Xian Yu Xian, a Taiwanese dessert shop I frequented often in high school, which specializes in sweet potato balls, taro balls, grass jelly, and douhua (a tofu dessert), as well as the adjacent kiosk that sells fried chicken cutlets similar to schnitzel.
I couldn't resist an obligatory trip to the Baiyun Leather Market, a misnomer for an incredibly expansive district dedicated to wholesale clothing and leather goods, to look at replica bags — anything from Dior to Prada. The place was packed with local and international shoppers alike. Because the brand police occasionally does sweeps, merchants no longer display wares with logos and instead take potential buyers up to private showrooms in shady units in apartment towers connected to the leather market.
Food and shopping aside, Guangzhou is a fusion of both the modern and the ancient — breathtaking skyscrapers, towering office buildings and feathers in Guangzhou's architecture meet temples, monasteries and architectural remnants of the Qing Dynasty in a vivid juxtaposition of new and old.
My preferred method of transportation around the city was the subway. Guangzhou Metro trains come frequently to cater to the needs of the large population, but all hell breaks loose at interchange stations, and any semblance of orderliness disappears during rush hour.
Source: www.dailycal.org
Share this Post