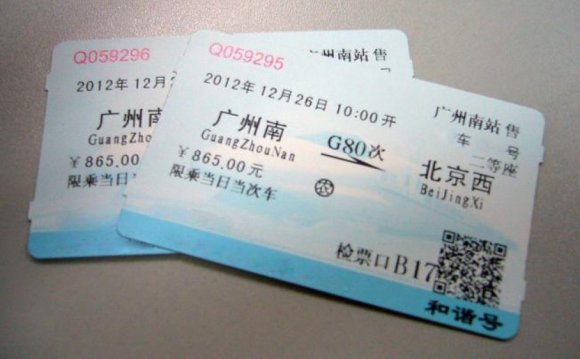 Beijing Guangzhou Train Ticket Reservation
This is your ultimate source for train schedules and fares between Beijing and Guangzhou. Don't waste your time on any other webpages for such information.
Guangzhou is the capital city of South China Guangdong province. Distance between Beijing and Guangzhou is about 2, 294 kilometers in railway length.
To let you browse the webpage more easily, we have divided this page into several sections, please click on the link below for your interested part.

Passenger's Guide for Beijing West Railway Station (New)
Want to purchase train tickets from us? Please send your enquiry to elinorzhu at gmail dot com.

Train No.
Departs
Arrives
Distance & Duration
2nd Class Seat Fares(CNY Yuan)
1st Class Seat Fares(CNY Yuan)
Business Class Seat Fares(CNY Yuan)
G71
Beijing West
7:40am
Guangzhou South
5:14pm
2298km/9h34m
862
1380
2724
G79
Beijing West
10:00am
Guangzhou South
6:03pm
2298km/8h3m
1642/2724
G65
Beijing West
10:28am
Guangzhou South
8:18pm
2298km/9h50m
G67
Beijing West
12:13pm
Guangzhou South
10:16pm
2298km/10h3m
G69
Beijing West
1:05pm
Guangzhou South
10:21pm
2298km/9h16m
Please note: following trains don't operate on Tuesday, Wednesday and Thursday
Upper Soft Sleeper Fares(CNY Yuan)
Lower Soft Sleeper Fares(CNY Yuan)
D925
Beijing West
7:35pm
Guangzhou South
6:59am
2298km/11h24m
709
880
1120
D901
Beijing West
8:10pm
Guangzhou South
6:28am
2298km/10h18m
D903
Beijing West
8:15pm
Guangzhou South
6:33am
D909
Beijing West
8:20pm
Guangzhou South
6:38am
D927
Beijing West
8:25pm
Guangzhou South
6:48am
2298km/10h23m
D921
Beijing West
8:30pm
Guangzhou South
6:53am
D923
Beijing West
8:35pm
Guangzhou South
6:43am
2298km/10h8m
Beijing to Guangzhou Deluxe Sleeper Train Schedules & Fares
Hard Sleeper Fares(CNY Yuan)
Soft Sleeper Fares(CNY Yuan)
Deluxe Double Cabin Fares(CNY Yuan)
Z35
Beijing West
11:40am
Guangzhou
8:41am
2294km/21h1m
426/441/456
750/784
1383/1445
Z97
Beijing West
1:00pm
Guangzhou East
10:01am
2302km/21h1m
Z12/Z13
Beijing
3:00pm
Guangzhou East
12:44pm
2294km/21h44m
251/-
Z201
Beijing West
5:56pm
Guangzhou
3:24pm
2294km/21h28m
Beijing to Guangzhou Sleeper Train Schedules & Fares
Seat Fares(CNY Yuan)
K599
Beijing West
5:15am
Guangzhou
11:12am
2294km/29h57m

First time to travel China by the train? You may need to check interior pictures of China train to compare the difference between hard sleeper and soft sleeper.

1st Class Seat Fare(CNY Yuan)
G72
Guangzhou South
8:28am
Beijing West
6:21pm
2298km/9h53m
G66
Guangzhou South
10:00am
Beijing West
6:00pm
2298km/8h
G68
Guangzhou South
11:15am
Beijing West
9:04pm
2298km/9h49m
G80
Guangzhou South
12:11pm
Beijing West
9:47pm
2298km/9h36m
G70
Guangzhou South
12:50pm
Beijing West
10:21pm
2298km/9h31m
Upper Soft Sleeper Fare(CNY Yuan)
Lower Soft Sleeper Fare(CNY Yuan)
D926
Guangzhou South
8:00pm
Beijing West
6:30am
2298km/10h30m
D922
Guangzhou South
8:05pm
Beijing West
6:40am
2298km/10h35m
D924
Guangzhou South
8:10pm
Beijing West
6:51am
2298km/10h41m
D902
Guangzhou South
8:15pm
Beijing West
6:56am
D904
Guangzhou South
8:20pm
Beijing West
7:01am
D910
Guangzhou South
8:25pm
Beijing West
7:13am
2298km/10h48m
D928
Guangzhou South
8:30pm
Beijing West
7:18am
Guangzhou to Beijing Deluxe Sleeper Train Schedules & Fares
Z202
Guangzhou
9:17am
Beijing West
6:42am
2294km/21h25m
Z14/Z11
Guangzhou East
4:44pm
Beijing
2:46pm
2308km/22h2m
Z36
Guangzhou
4:45pm
Beijing West
1:43pm
2294km/20h58m
Z98
Guangzhou East
6:06pm
Beijing West
3:13pm
2302km/21h7m
Guangzhou to Beijing Sleeper Train Schedules & Fares
K600/K597
Guangzhou
3:02pm
Beijing West
9:00pm
2294km/29h58m
Train timetable is specified in GMT+8 Beijing China Time Zone and price is quoted in Renminbi Yuan. You can trust: train schedule timetable and ticket fare listed here are almost 100% correct and up-to date. We will update the page whenever there is any change.
T97 and T98 run on alternative date and all the other trains listed here run on daily basis.
Advance ticket reservation period for Beijing-Guangzhou train is 20 days (maximum). China has world's busiest rail system, you are suggested to reserve the ticket in advance to make sure your travel plan will not be delayed. Advance ticket booking period may be shortened to 3-5 days during "golden week" holidays such as China National Day (October 1-7), Chinese Spring Festival and etc.
In China, railway sleepers are classified into two types: soft sleeper and hard sleeper. Hard sleeper has three sub-categories: upper hard sleeper, middle hard sleeper and bottom hard sleeper; Soft sleeper has two sub-categories: upper soft sleeper and lower soft sleeper.
Beijing Railway stations and ticket agencies sell tickets of different places. For example, you can buy Shenzhen-Guangzhou train ticket while you are still staying in Beijing City.
1 US dollar amounts to approximately CNY 6.2 Yuan.
Still can't find information you need? Please try China Train Guide, a website that enables users to search China's train information by route, station or train number.
| | |
| --- | --- |
| Beijing South Railway Station | Railway Station Waiting Hall |
| | |
| --- | --- |
| Beijing West Railway Station | |
Source: www.beijingchina.net.cn
INTERESTING VIDEO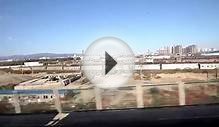 2010-10-30 Beijing to Guangzhou Train (2 of 5)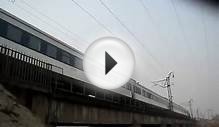 The fast train from Beijing to Guangzhou!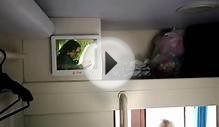 2010-10-30 Beijing to Guangzhou Train (3 of 5)
Share this Post