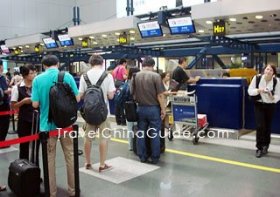 Convenient and well developed transport links make Macau a popular and easily accessible destination in Southeast Asia. Located on the western shore of the Pearl River Delta, Macau is the gateway to mainland China from the South China Sea. Connections with Guangzhou, Shenzhen, Hong Kong and other centers in southern China as well as countries on the Pacific Rim are provided by numerous domestic and international flights, ferries and buses. However, it should be remembered that the city's status as a free port means that there are immigration procedures to be observed prior to entry to the mainland of China.
By Air
Located on the east side of the outlying island of Taipa, Macau International Airport (MFM) has convenient transfers between the air and ferry services in the region. Its runway is on a narrow strip of reclaimed land and is connected to Taipa by two bridges.
Flights leaving this airport take passengers directly to most destinations in this region and there are scheduled airlines between it and cities in mainland China including Beijing, Shanghai, Haikou, Xiamen, Hangzhou, Nanjing, Shenzhen, Fuzhou and Chengdu and Taibei and Gaoxiong in Taiwan as well as Seoul and Inchon in Korean, Bangkok, Manila, Singapore and elsewhere in Southeast Asia. Travelers can also catch connecting flights to other parts of Asia, Europe and America.
The airport is a fifteen-minute drive from the city's Ferry Terminal and a twenty-minute drive from the Barrier Gate. It is quite easy for travelers to either catch a ferry service to Hong Kong or take a land trip by bus to Guangzhou. For travelers who wish to enter Shenzhen, a five minute car drive from the airport via the Lotus Bridge will reach the border of Guangdong Province.
Departure Tax
Passengers aged two years and over are required to pay 90 MOP (about 12 USD) airport departure tax. Those passengers who are passing through on connecting flights for other destinations are charged only 40 MOP (about 5USD).
Airport Transport
Express Bus - Two customs, one checkpoint
Express Bus is a new a time saving service which provides a quick Land-to-Air or Air-to-Land transport service between Macau International Airport and the ferry terminal by freeing Express Bus passengers from immigration and custom procedures and luggage handling.
For Air to Ferry Travelers
Passengers on their arrival at the airport should follow the sign board for the Express Bus Service and purchase tickets at the counters where a blue-tag will be provided to label check-in luggage. Then travelers go direct to the Air-to-Land transfer to Macau Ferry Terminal and take ferry service to their final destination thus avoiding immigration and custom procedures. Then it only remains for them to collect their luggage with blue tags at the terminal at their destination city.
For Ferry to Air Travelers
Passengers taking the ferry service from Hong Kong or Shenzhen, on arrival in Macau Ferry Terminal, can follow the signs to the terminal counters in order to buy tickets for the Express Bus Service. A blue-tag will be provided to label check-in luggage. Then travelers can board the Land-to-Air transfer to be taken to Macau International Airport and on to their final destination without any immigration and custom procedures. Then it only remains for them to collect their luggage with blue tags at the terminal at their destination city.
City Bus
Outside the Airport Entry Building, Airport Bus Nos API, 26 and 21 take passengers to the Barrier Gate or the outlying island of Coloane. There are also Cross-Boundary Bus services outside the Arrivals Building. There are tourist buses to take passengers directly to major cities in Guangdong Provinces.
Taxi
Taxis can also be found outside the airport building. A single trip to the city center is about 40 MOP$. For more information on taxi fares, please visit our Getting Around section.
Helicopter
Helicopters run by East Asian Airlines and Hong Kong Helicopter company, ply between helipads on the Macau and Hong Kong ferry terminals. The short trip takes only sixteen minutes and the flights from Macau to Hong Kong operate between 9:00 to 22:30 and those from Hong Kong are available from 9:30 to 10:59 at an interval of 30 minutes.
Moreover, helicopters leave from Macau Ferry terminal to Shenzhen Bao'an Airport at 9:45, 13:15, 14:45, 16:45 and the trip takes around 20 minutes. Helicopter services back from Shenzhen are available at 11:45, 14:15, 15:45, 17:15 and 20:30.
By Ship
There are three ferry terminals providing schedule ferry serivices to Shenzhen (Shekou Port, Fu Yong Ferry Terminal in Shenzhen Airport) and Hong Kong (Tsim Sha Tsui, Sheung Wan, HK Airport).
Macau Marine Ferry terminal, also knwn as Outer Harbor Ferry Terminal, New Macau Ferry Terminal and Terminal Marítimo do Porto Exterior in Portuguese, is located in Porto Exterior, east coast of Macau Peninsula, near the reservoir on Avenida da Amizade. It is the principle ferry terminal of the city. Many hotels have free shuttle buses waiting at the bus terminus outside the ferry terminal. It can be reached by city bus API, 10, 10A, 10B and 12 from Barrer Gare to Gongbei Custom, Macau Airport, Macau Tower and other places in the city.
Macau Inner Harbor Ferry Terminal in the west coast of Macau Peninsula near A Ma Temple, is an old dock area mainy dealing with cargo, fishing and inland waterway shipping. Now it has ferry to Wan Zai Pier of Zhuhai every half a hour from 8:30 - 11:30, 13:30 - 16:30.
Taipa Temporary Ferry Terminal, Terminal Marítimo Provisório da Taipa in Portuguese, is currently solely served by Cotai jet, located on the north side of Taipa island, a short distance from the Macau Airport. The Venetain has free shuttle bus to this terminal and it can also be reached from Colpane by city bus 21, 26, Praça de Ferreira do Amaral by MT1 and MT2, from Border Gate of Gongbei by AP1. Most of the buses are available at Macau Ferry Terminal too. Ferry to Shenzhen and Hong Kong are both available here.
Shenzhen - Macau
Shekou to Macau
Shenzhen Shekou Port has ferry services to Macau Ferry Terminal and Taipa Temporary Ferry Terminal. It takes about one hour.
From Shekou (Turbo-Jet): 8:15, 8:45, 10:30, 11:30, 13:30, 14:30, 15:30, 16:45, 18:30, 19:30
Back hours 9:45, 10:15, 12:00, 13:15, 15:00, 16::00, 17:00, 18:00, 20:00, 20:45
Tickets (per person): CNY 270 (first class), CNY 170 (tourist class), CNY 100 (first class children), CNY75 (children)
From Shekou to Taipa Temporary Ferry Terminal: 9:30, 12:15, 17:30
Source: www.travelchinaguide.com
INTERESTING VIDEO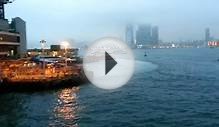 Hong Kong - central ferry pier to macau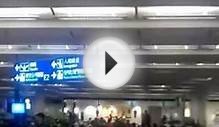 Hong Kong Airport to Zhuhai Ferry (jamie)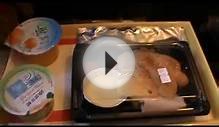 Macao to Hong Kong Jetfoil Ferry
Share this Post