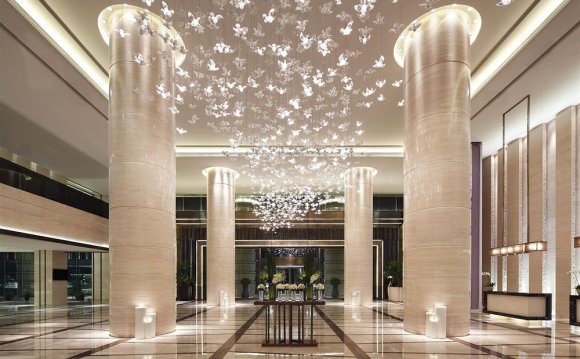 I spent one night at this hotel with my wife for my birthday, as my kid was away in Beijing on a study tour with his school. I chose this hotel because of the very attractive rate, only US$120, compared with US$188 for the other Westin near the Guangzhou East Station. It is also a new property, opened for just about a year.
The hotel is located in the middle of the Guangzhou Exhibition Centre in the Pazhou district in southeast Guangzhou. It is about five minutes walk from the Pazhou subway station so transportation is not a big problem. However, at night the streets are quite dead because the whole neighbourhood consists of only exhibition halls and warehouses, other than the Westin and the Shangri-La a few blocks away. It seemed there was no major exhibition going on when we were there, so the hotel was very quiet with few guests.
We were very lucky to be given a corner room facing south and east on the 20th floor. This gave us a great view of the suburbs of Guangzhou – wide-open space with rice paddy fields, factories and the exhibition centre itself.
Our room was very spacious (more than 50 square metres, I believe) and very elegantly furnished. The open bathroom was well equipped with a roomy shower and a bathtub, and was combined with the walk-in closet in an integrated whole.
As it was just an overnight trip, we didn't spend a lot of time in the hotel. When we came back at night we found out that only the lobby lounge was open for drinks. There were only two tables of guests and no live entertainment was available.
We went swimming the next morning. The pool was quite nice and big (about 30 metres long) for an indoor hotel pool. Unfortunately, the water temperature (which I believe was at the standard 28 degree Celsius) was too cold for my wife, and there was no Jacuzzi for her to soak. There was also a spa but we didn't try it.
All in all, a very nice hotel if you don't mind the location.
This review is the subjective opinion of a TripAdvisor member and not of TripAdvisor LLC.
Dear allanng2004,
Thank you for taking time to review The Westin Pazhou. It is honored to know that you enjoyed your stay, especially the beautiful city skyline room view. Your detailed feedback is highly appreciated and it will help us constantly deliver instinctive and personal service to our most valuable guests. We sincerely look forward to your next stay with us!
Source: www.tripadvisor.com
INTERESTING VIDEO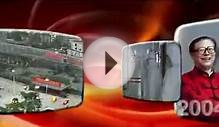 Marketting video for Canton Fair china import export ...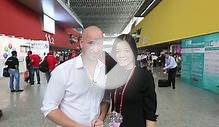 Ningbo Focus Episode 13: 113th Canton Fair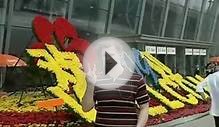 A day in the Canton fair how to attend china import&export ...
Share this Post