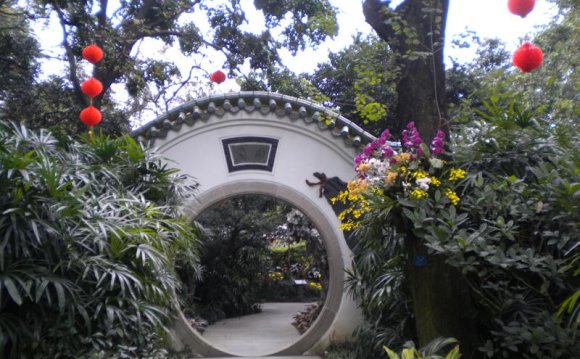 The South China Botanical Garden is located about 8 kilometers (about 5 miles) to the north of Guangzhou city and covers 4, 500 mu (about 741 acres). Initially built in 1929, it is the oldest and largest South Asian tropical botanical garden in China. It is also the botanical garden containing the most species in China, thus reputed as 'Tropical and Sub-tropical Botanic Museum'.
The South China Botanical Garden consists of three parts: the Nursery and Exhibition Zone, the Research and the Residential Zone, and the Dinghushan Nature Reserve. In the Nursery and Exhibition Zone there are modern conservatories, an education hall, and about 30 specialized gardens.
The Research and Residential Zone covers 552 mu (about 91 acres). It includes a herbarium with 1, 000, 000 plant specimens, a library with 200, 000 books, and a network center.
Built in 1956, the Dinghushan Nature Reserve is the first nature reserve in China and the only nature reserve of the Chinese Academy of Sciences. It cultivates more than 2, 400 types of plants. Additionally, the Dinghushan National Field Research Station of Forest Ecosystem is located here.
Attraction Sites
'Long Dong Magic Forest' is one of the most representative sites inside and was chosen as one of 'Eight Top Scenic Spots in Guangzhou' in 1986. It consists of two peninsulas and one man-made lake. Being one of the peninsulas, the Palm Garden is green all year round while the Relic Garden, the other peninsulas, has four distinctive seasons like a changing picture.
'Guangzhou's Oldest Village' has been rebuilt on Neolithic age ruins, which were the birthplace of the people of Guangzhou. There is a square, ruins appreciation and protection sites, sculptures, reproductions of a primitive village, an archeological site, and History and Culture Exhibition Halls. Visitors may make pottery, experience slash-and-burn cultivation, and relax in 'tree houses' in order to experience life in primitive times.
Covering an area of 1, 000 square meters (about 10, 764 square feet), South China Botanical Garden Conservatory is the largest comprehensive conservatory for research, education and tourism in Asia presently. It showcases rainforest plants, desert plants, alpine plants, and exotic and rare plants. This conservatory is in the shape of a kapok tree, whose flower is Guangzhou's city flower. The main conservatory and another three conservatories are flowers and the man-made rivers are branches and leaves.
The Science Education and Information Center is divided into four areas to display knowledge concerning plants. They are 'Time Tunnel', 'Plants and Human Beings', 'Botanical Ecology' and 'Botanical Resource Protection and Sustainable Utilization'. With the use of real objects, models, pictures, and videos, the exhibition aims to create an immersed scene. It is especially suitable for primary and high school students.
Specialty gardens such as the lily magnolia garden, the palm garden, and the ginger garden are constructed according to botanical species, their ecological characteristics, and function. There is also a hall for a history and culture exhibition, an area for education, and an area for eminent persons to plant trees.
The South China Botanical Garden also includes entertainment places such as a paintball club, a fishing club, and some restaurants.
Transportation:
By Bus:
Take bus no. B12, 28, 30, 39, 83, 84A, 84, 345A, 345, 346, 494A, 494, 535, 534, 564 or 775, and get off at the South China Botanical Garden.
Take bus no. 46, 54, 218 or 775 and get off at the South Gate of South China Botanical Garden Station.
Take bus no.46, 54 or 218 and get off at Chemistry Institute Station, then walk ahead about about 547 yards(500 meters) to the South China Botanical Garden.
By Subway:
Take subway line 3 and get off at Tianhe Bus Station, then take bus no. 28, 39, B12, 84, 84A, 30, 494, 494A, 534 or 535 bus to get there.
Take subway line 6 and get of at Changbeng Station, get out from Exit A and walk to Shejichang Station take bus no. 28, 39, 83, 84, 84A, B12, 345, 345A, 494, 494A, 535 or 564 to Zhiwuyuan (Botannical Garden) Station
Guangzhou Bus / Subway Search
Admission Fee

Ticket Types

Ticket Price

Favorable Policy

Front Gate Ticket

CNY 20

50% discount for children between 3.9 and 4.9 feet (1.2 to 1.5 m), adults over 60 and the disabled;
Free for children below 3.9 feet

Combo Ticket (Front Gate + Conservatory)

CNY 50

Visitors can enjoy 20 percent discount on the front gate and combo tickets during 2016 Spring Festival Holiday (Feb. 7 to 13), May Day Holiday (May 1 to 3) and National Day Holiday (Oct. 1 to 7).

Opening Hours
Similiar Attraction: Sunflowers Garden
Source: www.travelchinaguide.com
INTERESTING VIDEO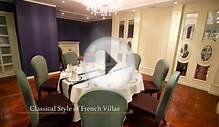 Dining at The Garden Hotel | Guangzhou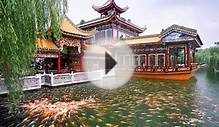 Baomo Garden l Guangzhou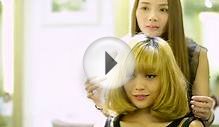 The Garden Hotel | Huanshi Dong | Guangzhou
Share this Post