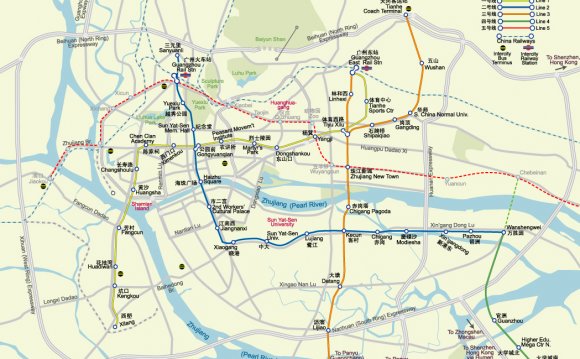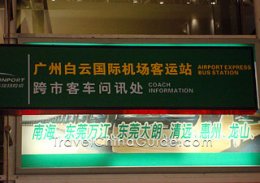 Baiyun International Airport
Located in the middle of south China, Guangzhou is one of the prosperous cities on the north border of the Pearl River Delta. This advantageous position makes the city a transportation hub for south China by air, road and water. This transportation system has helped the city become one of the most developed regions in south China.
New Baiyun International Airport (CAN) has been in operation since August 5, 2004. The new airport is located between Renhe Town of Baiyun District to the north and Xinhua Town of Huadu District to the east, 17 kilometers (10.6 miles) away from the old one and 28 kilometers (17.4 miles) away from Haizhu Plaza, the city center.
Flights from New Baiyun International Airport (CAN) connect the city with more than 70 domestic cities and over 21 international cities. The domestic flights go to Beijing, Shanghai, Xian, Kunming, Chongqing, Haikou, Chengdu, Hangzhou, Guiyang, Ningbo and Lianyungang, etc. The direct international flights are to Singapore, Kuala Lumpur, Bangkok, Osaka, Seoul, Ho Chi Minh City, Hanoi, Tokyo, Jakarta, Taipei, Hong Kong, Sydney, Amsterdam, Frankfort, Paris and New York, etc. Flying in around 16 hours, the flight to New York departs at 01:40 every Mon., Wed., Fri. and Sun.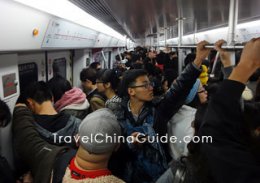 Airport Inquiry Hotline: 36066999 (Mandarin, Cantonese and English languages are available.)
Passport holders from 51 countries and regions can be granted a 72-hour visa-free permit while in transit via Baiyun Airport. Visa is not required either for passengers by international flights who pass directly through CAN with a stopover less than 24 hours. They must however have a connecting flight and a booked seat.
Guangzhou Flights:
Airport Transportation
Coach Information of
the Express Bus Station
Airport Shuttle Bus: There are eleven shuttle bus lines supplying convenient transportation for passengers between Baiyun Airport and the downtown area; and four special lines to Foshan, Shunde, Nanhai, and Longshan. The boarding spots are located at Gate A1, A2, and A12 of International Arrival Hall; and Gate B3, B4, and B5 of Domestic Arrival Hall.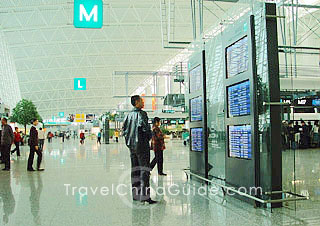 Airport Intercity Bus between Guangzhou and Zhuhai, Shenzhen, Dongguan, Shunde, Zhongshan, Jiangmen, Foshan, Zhaoqing, Qingyuan, Conghua, Zengcheng or Heyuan.
Taxi
A taxi charges CNY10 for the first 2.5 kilometers (1.6 miles), and CNY2.6 for succeeding per kilometer. It's very convenient to shuttle between the downtown and the Baiyun Airport; However, it may cost much money. For example, it costs you about CNY100 from the airport to the City Railway Station.
Subway Line 3
There are eight subway lines used in the city at present– Line1, Line2, Line 3, Line 4, Line 5, Line 8, GuangFo Line and APM Line, operated by Guangzhou Metro Company. The subway utilizes a stage fare system. The longer the journey the more you pay. At present, Line 3 could reach Baiyun Airport from downtown area directly, via Panyu Square, Zhujiang New Town, South China Normal University and the East Railway Station.
City Subway Map
Transportation from Airport to Railway Station
There are two railway stations in the city, including the Railway Station and East Railway Station. Both railway stations are very important transportation hubs. Especially, the East Station is the transfer station to Hong Kong. If you have already arrived at Baiyun Airport and wants to go to the railway station, you may adopt the following itineraries:
To Guangzhou Railway Station
Suggestion: You can take the Airport Express Bus Line 1 at the No.7 Gate of the Arrival Hall of the Terminal Building. This line reaches CAAC Ticket Office, which is very near to the Railway Station.
Source: www.travelchinaguide.com
INTERESTING VIDEO
Airport Express Tsing Yi-Airport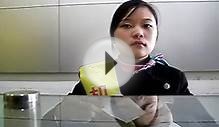 CCME Airport Express Guangzhou Bus Stop
Share this Post