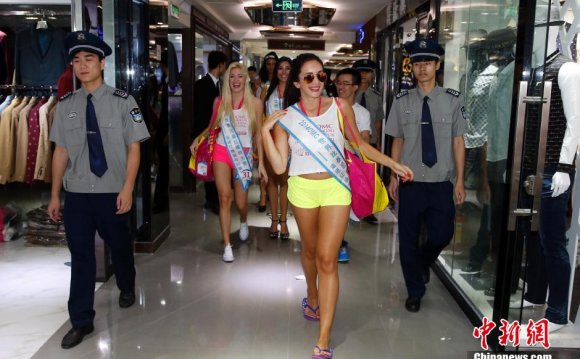 Shangxiajiu Pedestrian Street is one of the most prosperous three business centers in Guangzhou, consisting of Shangjiu Road, Xiajiu Road, and Dishifu Road. It is a nice destination with various affordable goods, unique Guangzhou-style buildings, and delicious Canton snacks and food.
What you can buy: The street is a summary of Guangzhou people's eating and clothing. There are hundreds of shops (including numerous department stores) along this 1, 218-meter street. The main goods sold there are clothing and cloth. The famous Huanlin Jade Street (a nice place for buying jade articles), and the largest farm products market, Qingping Farm Products Market, are also located there.
Tasting Canton food: After hundreds of years' development, there are many old and famous restaurants and teahouses, such as Qingping Restaurant (清平饭店), Huang Shang Huang (皇上皇腊味店, well-known for its cured meat), Lianxiang Building (莲香楼, famous for its Canton-style moon cake and various dim sums), TaotaoJu (陶陶居, another famous tea house), and Guangzhou Restaurant (广州酒家). Most of them are located on Dishifu Road. You can also taste the numerous street snacks.
Cloth, clothing, paper, and herbs: Centered around Shangxiajiu Pedestrian Street there is a business area covering 2.5 square kilometers, with several cloth markets, a clothing market, a paper wholesale market, and a Chinese herbal medicine market.
Subway: Shangxiajiu Pedestrian Street is in Liwan District. You can take Subway Line 1, get off at Changshou Road (长寿路), take Exit A, and walk about 500 meters along Baohua Road (宝华路, follow the stream of people if you do not know which direction).
2. Tianhe Teemall: Guangzhou's Top International Mall
Tianhe Teemall
Teemall is the most prosperous and the most international business center in Guangzhou. The all-encompassing shopping mall offers services of shopping, eating (including Chinese food and Western food), entertainment, bodybuilding, business affairs, and exhibition. However, the large shopping mall has no difference from those in other cities. If you are looking for local products, go elsewhere.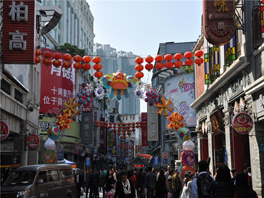 What you can buy: It is not a cheap place to shop, but there is a modern shopping center with a few local shops. International stores include Lacoste, Zara, H&M, and Versace. Guangzhou Book Center, the largest book store in Guangzhou, is also located there.
How to get there: Teemall is near the Guangzhou CBD, Tianhe Sports Center, and Guangzhou East Railway Station. You can take subway line 1 or 3 to Tiyu West Road (体育西路) or a bus stopping at Tianhe (天河站) or Sports Center (体育中心).
3. China Plaza
China Plaza is located at the junction of Zhongshan Third Road, facing Guangzhou Cemetery of Revolutionary Martyrs. The shopping mall, together with its Grade A office building, is one of Guangzhou's landmarks.
Free Wi-Fi is available in China Plaza.
China Highlights remind you not to show too much interest and not to buy too quickly. You might get a surprise of a lower price if you do not give in too quickly.
What you can buy: China Plaza has 9 floors, including a basement floor. Clothing, mobile phones and accessories, furniture, and food are all available there.
Basement floor: Many famous internationally branded goods, including CK, TOMMY, MONGO, and THEME
Floor 1: domestic branded goods
Floor 2: supper market and video games
Floor 3: fashionable clothing and accessories
Floor 4: mobile phones, digital products, and accessories
Floor 5: furniture
Floor 6: Culture City with food, snacks, and clothing and accessories
Floor 7: Food Palace with cooking styles of Chinese, Japanese, South Korean, European, and American food

Floor 8: cinema and health club
Subway: Take subway line 1, get off at Cemetery of Revolutionary Martyrs (烈士陵园), and take Exit A.
4. Gangding Computer and Digital Shopping Circle
There are several computer shopping malls in this circle, and the main ones are Tianhe Computer Mall (天河电脑城, at 502 Tianhe Road), Buynow Computer Mall (百脑汇), Pacific Digital Plaza (太平洋电脑城), Guangzhou Computer Mall (广州电脑城), and EGO Digital Plaza (颐高数码广场).
Appliances and various digital products including computers, laptops, tablets, digital cameras, accessories, and software are widely sold there. If you are an enthusiastic fan of digital products, this circle should be a nice place for you. Cheap and fine goods can be founded there: the central premise is that you are a good bargainer with sharp eyes.
How to get there: Gangding Computer and Digital Shopping Circle is located in Tianhe District, you can take subway line 3 and get off at Gangding Station (岗顶站).
5. Beijing Road Pedestrian Street (北京路步行街)
Beijing Road Pedestrian Street is a typically crowded place to shop and eat, especially during weekends. There are about 140 stores in this 440-meter street.
The main goods sold there are clothing, articles of daily use, shoes, leather products, bags, food, jewelry, and books. Guangzhou Cartoon Star City (广州动漫星城) nearby has lots of products imported from Japan and South Korea, and is an exciting place for youths and comic fans.
Beijing Road is not far from Shangxiajiu Pedestrian Street. Generally, Beijing Road is not as good as Shangxiajiu Pedestrian Street, because it does not have so many excellent restaurants and snacks, though it has its own charm.
How to get there: Beijing Road (Beijing Lu) is located in Guangzhou city center. You can take subway line 1 or 2, get off at Gongyuanqian (公元前站), and then walk to Beijing Road.
Recommended tour: Four-Day Essence of Guangzhou and Shenzhen Tour
Source: www.chinahighlights.com
INTERESTING VIDEO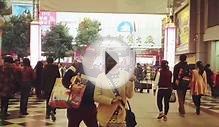 China Guangzhou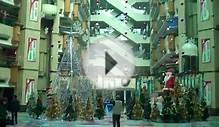 Inside shopping Mall in Guangzhou, China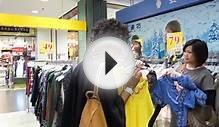 Jay and Sharon - Guangzhou - Shopping in China
Share this Post