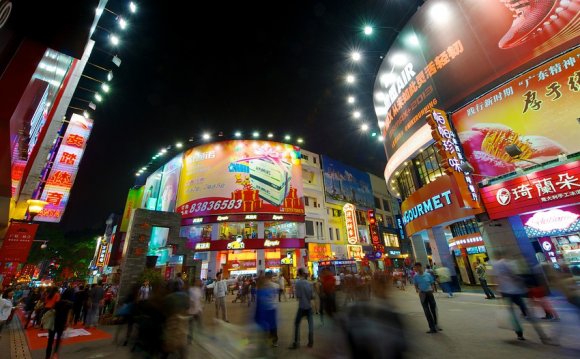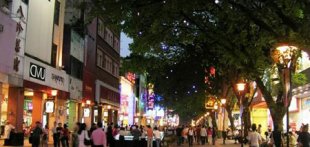 Guangzhou's Beijing Lu and its surrounding neighbourhood have gradually become known for one thing – shopping. Along with Teemall and Shangxiajiu, it is a top consumer destination, particularly for clothes. Lacking in its popular facade however, is its ancient history as well as its modern evolution into a top dining area and a hangout spot. While it's known only as Beijing Lu, or officially as Beijing Lu Commercial Center, these names refer to a small district surrounding the 440-meter main drag: Zhongshan Si Lu and Zhongshan Wu Lu in the north down to Wenming Lu and Danan Lu in the south; and Dezheng Zhong Lu in the east to Qiyi Lu in the west.
Photo: special.o.cn
Like much in China, Beijing Lu's origins go back over 2, 000 years, to the modest beginnings of Guangzhou as Panyu Town during the Western Han Dynasty. As royalty moved here, and mansions, palaces and temples got built, this street and its neighbours quickly became a commercial district. In fact, despite its modernity today and its Times Square feeling at night, a simple walk down Beijing Lu reveals the showcase of ancient roads several feet underground and protected by glass, the remains of the area from the Ming and Qing dynasties. Still under your feet on Beijing Lu are allegedly roads and gates from nine other dynasties.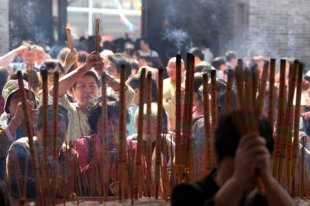 The name of the city may have changed, and it may have expanded geometrically, but just ten minutes walk from the main strip you can now find the ancient Panyu Site, gradually being exposed by archaeologists.
As for the Beijing Lu of the present, it still lives up to its image as a shopping mega-center. The main road itself has over 150 shops of all sizes and qualities with countless more on the side avenues. For the curious, a labyrinthine network of tiny alleyways lined with stalls lie just off the major thoroughfares. Beyond fashionable clothes, and cheap ones, you can also find traditional Chinese stationary, paints, handicrafts and what could best be described as knick-knacks. The area's reputation for dining is also high, and it's in the middle of a planned expansion. The major restaurant row from Huifu Dong Lu and Yushan Lu already contains a multitude of eateries such as the widely-adored Tiger Prawn, Lemongrass and Alibaba. Shortly, the city government will make part of this stretch another pedestrian area and expand it to include over one hundred restaurants.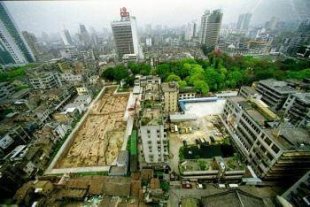 A trip to this dynamic neighbourhood could actually start just next to Gongyuanqian metro station, at Renmin Park off of Zhongshan Wu Lu. This small park from 1918 may not be Guangzhou's most illustrious, but it offers the sight and shade of numerous banyans and lies next to the stately Guangzhou Government Building. While most of your time may be spent exploring the avenues and alleys of Beijing Lu, you also have the Pearl River just ten minutes to the south. After an afternoon or evening of Beijing Lu's bustling pedestrian traffic, it's an easy and quiet walk down to the river, passing smaller stores and a local coffee shop on the way.
It seems Beijing Lu not only warrants a visit, but also a thorough investigation. Since there is no simple geographic route to tour the whole Beijing Lu neighbourhood, I will point out major spots for you topically – historical sites, restaurants and shops. Several of the dining and shopping options below could equally be called historical.
Worshippers at Chenghuang Temple. Photo: djyimg.com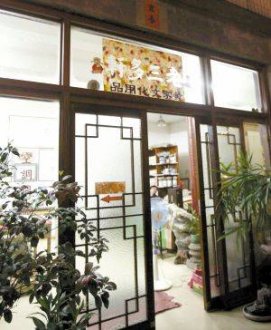 Historical Sites:
1) Panyu Ancient Town site – Still mostly underground, the original town was established sometime around 214 B.C. between the Qin and Western Han dynasties. Early Panyu included only the Zhongshan Si Lu and Cangbian Lu areas.
Panyu Ancient Town siteView In Map
Add: No. 316 Zhongshan Si Lu, Yuexiu District, Guanghzou
地址:广州市越秀区316号中山四路
2) Nanyue Ancient Palace Garden ( 南越国宫署Nanyue Guo Gongshu) – Basically a part of the Panyu Ancient Town site, this construction was built in 203 B.C. and covers over 150, 000 square meters. The current dig has exposed about 1% of it. Despite its name, it was not in fact built by the later Nanyue kings.
Nanyue Ancient Palace Garden ( 南越国宫署Nanyue Guo Gongshu)View In Map
3) Big Buddha Temple (大佛寺Da Fo Si) – The Big Buddha Temple was built between 917 and 971 A.D. during the Southern Han Dynasty. Visitors will notice its distinct style from Guangzhou's other temples. The temple can be difficult to find, as it is tightly enshrouded with narrow streets, but a walk down Huifu Dong Lu and a turn down tiny Xinhuezhong Lu will take you past one of its gates.
Big Buddha Temple (大佛寺Da Fo Si)View In Map
Add: No.21 Xinhuizhong street, Yuexiu District, Guangzhou
地址:广州市越秀区21号新惠中路
4) Chenghuang Temple (城隍庙Cheng Huang Miao) – This temple dates back 640 years to the Ming Dynasty. It was the city's main worship spot in ancient times, and today attracts many food vendors to its entrance.
Source: www.echinacities.com
INTERESTING VIDEO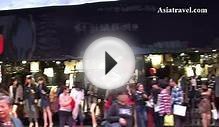 Beijing Road, Guangzhou by Asiatravel.com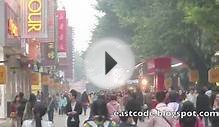 Beijing Lu road Guangzhou walking and shopping street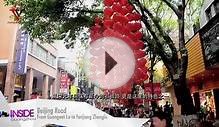 Beijing Road l Guangzhou
Share this Post