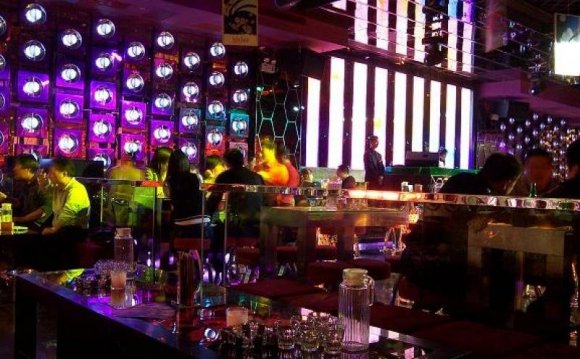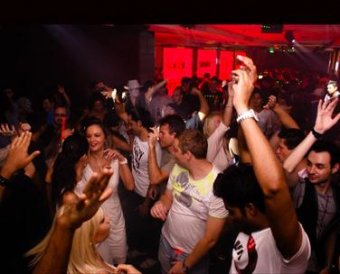 Though compared to some other cities Guangzhou's popular nightclubs are more scattered, there are some hot spots that will allow you to embark on a fun-filled club-hopping tour (at least until 2am) that does not involve lengthy taxi rides. In this article we are going to have a look at the club scene that stretches along the river near Haizhu Square/Yanjiang Lu.
All clubs are within short walking distance, making it a perfect place to go to if you are new to Guangzhou and you want to check out a few clubs without spending much time on getting there & away. To get to this party area, either take a taxi to Haizhu Square/Yanjiang Xilu or get off the metro line 2 at Haizhu Square station.
Partygoers at Bound. Photo: bound-club.com
1) BoundView In Map
Since its opening two years ago Bound Club has become one of the best-known clubs among foreigners and, so it seems, foreign models in Guangzhou. Combining dining during the day and clubbing in the night Bound club not only features a dance floor packed with an ecstatic crowd dancing to house and techno music during weekend nights but also a beautiful rooftop terrace that enables you to relax and talk while smoking shisha (water pipe).
Add: 183 Yanjiang Xilu, Yuexiu Disctrict, Guangzhou
地址:广州市越秀区沿江西路183号
Tel: 020 8333 2223
Website: www.bound-club.com
Door policy: Sometimes male visitors are charged 100 RMB (no drink included), no short pants allowed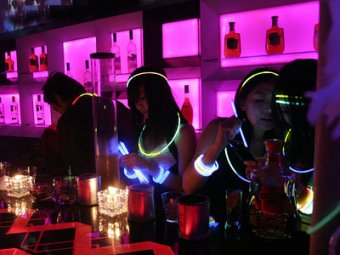 2) In/Show BarView In Map
In Bar and Show Bar occupy the same brand-new building and both are especially popular among the "Nouveau Riche" in Guangzhou. Fittingly, you will see Ferraris, Hummers and Porsches lined up in front of the entrance during weekend nights (in other words, if your car's value is less then half a million RMB don't consider parking near the main door). Both bars feature a currently popular knock-off of old French/European décor mixed with Asian elements. Not surprisingly, the drinks are not exactly a bargain.
Add: 24-26 Beijing Nanlu, Yuexiu District, Guangzhou
地址:广州市越秀区北京南路24-26号
Door policy: Usually no charge, dress appropriately
Coco Track. Photo: cocotrack.com
3) Coco Track View In Map
The Coco Track club is somewhat popular among the young and stylish Chinese crowd and foreign guys. Though not very special in its interior decoration or music style, it is a mainstream club that offers reasonably priced drinks and a good atmosphere to dance the night away. True to its spirit as a Chinese club it also offers dance performances and an elevated stage you might want to claim if you are in need of attention.
Add.: 199 Yanjiang Zhonglu, Yuexiu District, Guangzhou
地址:广州市越秀区沿江中路199号
Tel: 08, 33214868
Website: www.cocotrack.com
Door policy: No charge, relaxed dresscode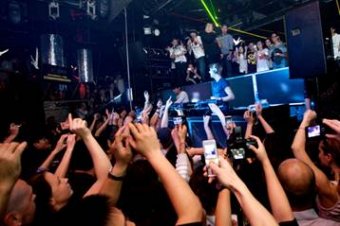 Photo: babyface.com.cn
4) Babyface View In Map
Babyface Guangzhou is a little bit smaller than its Shanghai equivalent but offers the same atmosphere and of course the same dance/house/techno music style. Due to its famous brand name, Babyface is sometimes able to pull high-profile techno DJs from Europe into Guangzhou, so expect a higher entrance fee on these dates. In general, though, public opinion about this club is surprisingly split into strong approval or disapproval, but if you are looking for a safe and standard choice this will be your spot.
Add: 83 Changdi Damalu, Yuexiu District, Guangzhou
地址:广州市越秀区长堤大马路83号
Tel: 020 8335 5771
Website:
Door policy: 100 RMB entrance fee or more charged on popular nights (no drinks included) and on visiting DJ event dates, relaxed dresscode
5) Hei Hei 喜喜酒吧 View In Map
Hei Hei club is probably the most famous Hip Hop club in Guangzhou. It is located right next to the Landmark hotel on Haizhu Square and extremely popular especially among hip young Chinese and Africans up to a point that its so packed on weekends that no additional guest are allowed to enter. Apart from its dedicated music style that sets Hei Hei a bit apart from its neighbour clubs, it offers the standard combo of charged tables, front stage dancers and elevated dancing stage for the crowd.
Add.: Qiaoguang Lu (Haizhu Square), Yuexiu District, Guangzhou
地址:广州市越秀区侨光路(海珠广场)
Tel: 02
Website: www.heiheiclub.com.cn
Door policy: 100 RMB entrance fee charged on weekend nights (no drinks included), relaxed dresscode
6) Soho Bar 苏荷酒吧View In Map
Soho Bar, neighbouring Babyface, is a mainstay along the river club street and features a mixture of dance music and Chinese pop songs. Not surprisingly, you will find a crowd here that ranges from 18-50 years in age and mainly engages in dice- and drinking games throughout the night. The interior with its swinging ceiling lights and LED screens along the walls is quite unique. Though the crowd is mainly Chinese this club is also popular among some foreigners who wish to party more in a "Chinese way".
Add: 87 Changdi Damalu, Yuexiu District, Guangzhou
地址:广州市越秀区长堤大马路87号
Tel: 020 8319 5095
Source: www.echinacities.com
INTERESTING VIDEO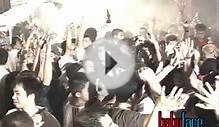 Jamaster A-Halloween Party @ Babyface (Guangzhou)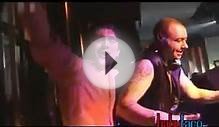 Mauro Molinari@babyface guangzhou (11nov08)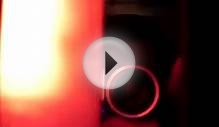 Elite Force @ Babyface, Guangzhou (07/11-08)
Share this Post