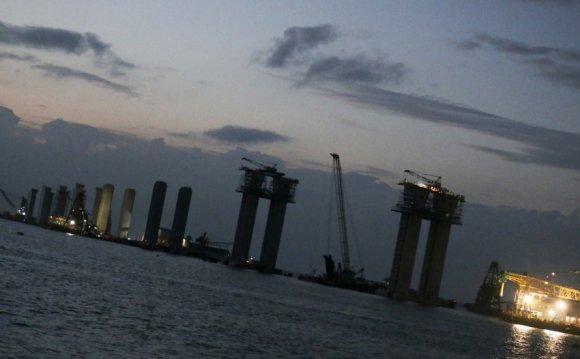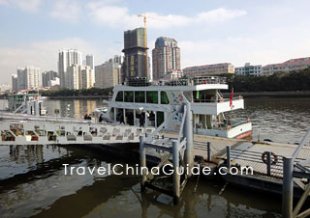 One of the local port
Guangzhou is one of the ten most famous port cities in mainland China. It lies in the Pearl River Delta with a prosperous economy. Ports there include Humen Port, Xinsha Port, Huangpu Port and many other inner ports. Its international sea transportation is well developed. The ship routes lead to more than 100 ports in China and over 300 ports of 80 countries. It is the biggest foreign trade port in South China. Besides the load and discharge of cargos, some ports also provide passenger services.
Lianhuashan Port
Panyu Lianhuashan Port is located at the southern foot of the famous Lianhuashan Mountain (Lotus Mountain). It is 61 sea miles from Hong Kong. Near the Lianhuashan Port, there are many tourist attractions, such as Xiangjiang Wild Animals World and Changlong Nocturnal Animals World. At present, the Panyu Lianhuashan Port provides high speed passenger liners between Guangzhou and Hong Kong daily. The whole voyage only takes one hour and fifty minutes.
Lianhuashan Port → China Hong Kong City Port
Departure Time
Ticket Fare per person
VIP Class
First Class
Second Class
08:30, 10:00, 16:00, 18:00
Adult
CNY185
CNY165
CNY145
Child
CNY93
CNY83
CNY73
China Hong Kong City Port → Lianhuashan Port
07:50, 10:40, 13:50, 18:10
HKD205
HKD185
HKD165
HKD122
HKD112
HKD102
Transportation from city downtown area to Panyu Lianhuashan Port:
It takes about 30 minutes from the downtown to Lianhuashan Port by bus. From Guangzhou Baiyun Airport to Lianhuashan Port, the bus needs about one hour. In Panyu District, many hotels sell ship tickets in advance and provide free buses to send passengers to the port. Hereunder is the timetable of the free buses for your reference:
Pick-up Point
Departure Time
Hotel Miramar
07:20
08:50
14:50
16:50
Panyu Hotel
07:30
09:00
15:00
17:00
City Garden
07:40
09:10
15:10
17:10
Shiqi Hotel
07:50
09:20
15:20
17:20
Star River Hotel
07:00
08:30
14:30
16:30
White Palace Hotel
07:05
08:35
14:35
16:35
Weijing Hotel
07:10
08:40
14:40
16:40
Xiangjiang Hotel
Changlong Hotel
Qifu Hotel
Huangpu Port
The Huangpu Port in Huangpu District provides the ship to Xiuying Port, Haikou. The ship is called Coconut Fragrance Princess, Yexiang Gongzhu in Chinese. It is 140 meters long and 204 meters wide. It takes about 18 hours by sea to go from Haikou to Guangzhou by sea. On the ship, you can enjoy the beautiful sunrise and sunset. It takes you to visit the Humen Bridge and the scenery of the Pearl River.
Huangpu Port → Xiuying Port
Ticket Fare per person
Third Class A
Third Class B
Fourth Class
15:30 (Tue., Thu., Sat.)
CNY450
CNY320
CNY260
CNY282
CNY200
CNY150
Xiuying Port → Huangpu Port
Transportation from downtown area to Huangpu Port:
1. Get to Tianhe Sports Center or Dongshankou by subway. Then, transfer to the Bus No.50 to go to Huangpu Port Terminal.
2. Take the Bus No.24, 43, or 292 at the East Railway Station.
Notices for Ship Passengers:
1. Passengers, who hold valid passport, visa and other travel documents, should purchase tickets according to specifications.
2. Child ticket is only suitable for the kids aged one to five.
3. Passengers should reach the appointed port one hour in advance.
4. Passengers are not allowed to get on the ship 15 minutes before the departure.
5. Each passenger can take 4 kilograms' hand baggage for free (with the volume of less than 0.028 stere).
Source: www.travelchinaguide.com
INTERESTING VIDEO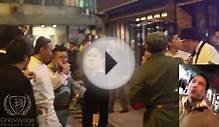 ChicVoyage in Hong Kong NYE 2011 Featuring Guangzhou ...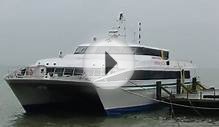 Panyu Nansha - Hong Kong High Speed Ferry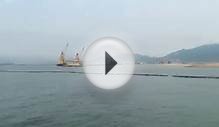 Hong Kong airport ferry terminal SkyPier
Share this Post